Start your domain name search
Get started on your domain name adventure by using our domain name search bar. Insert your desired name to see which domains are available.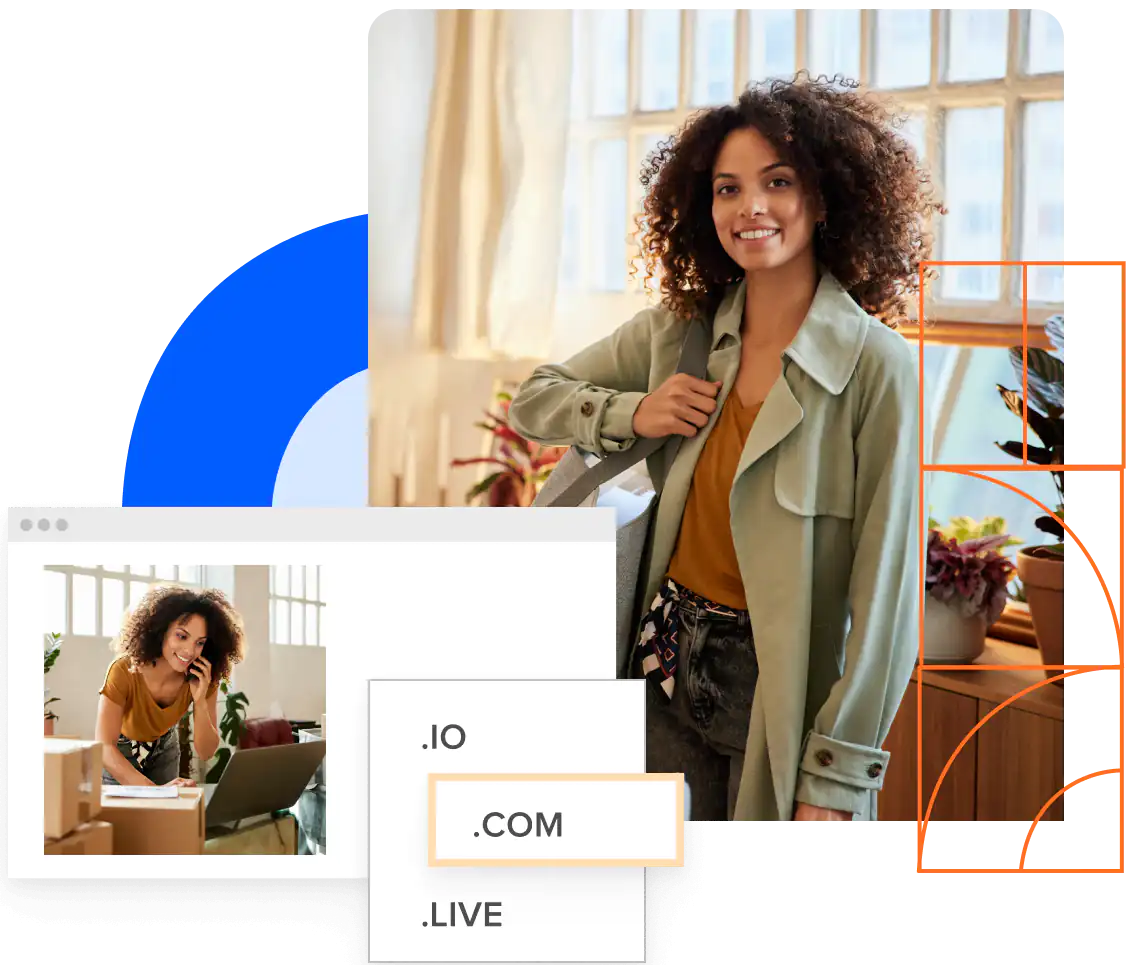 Check domain name availability
Why choose Name.com?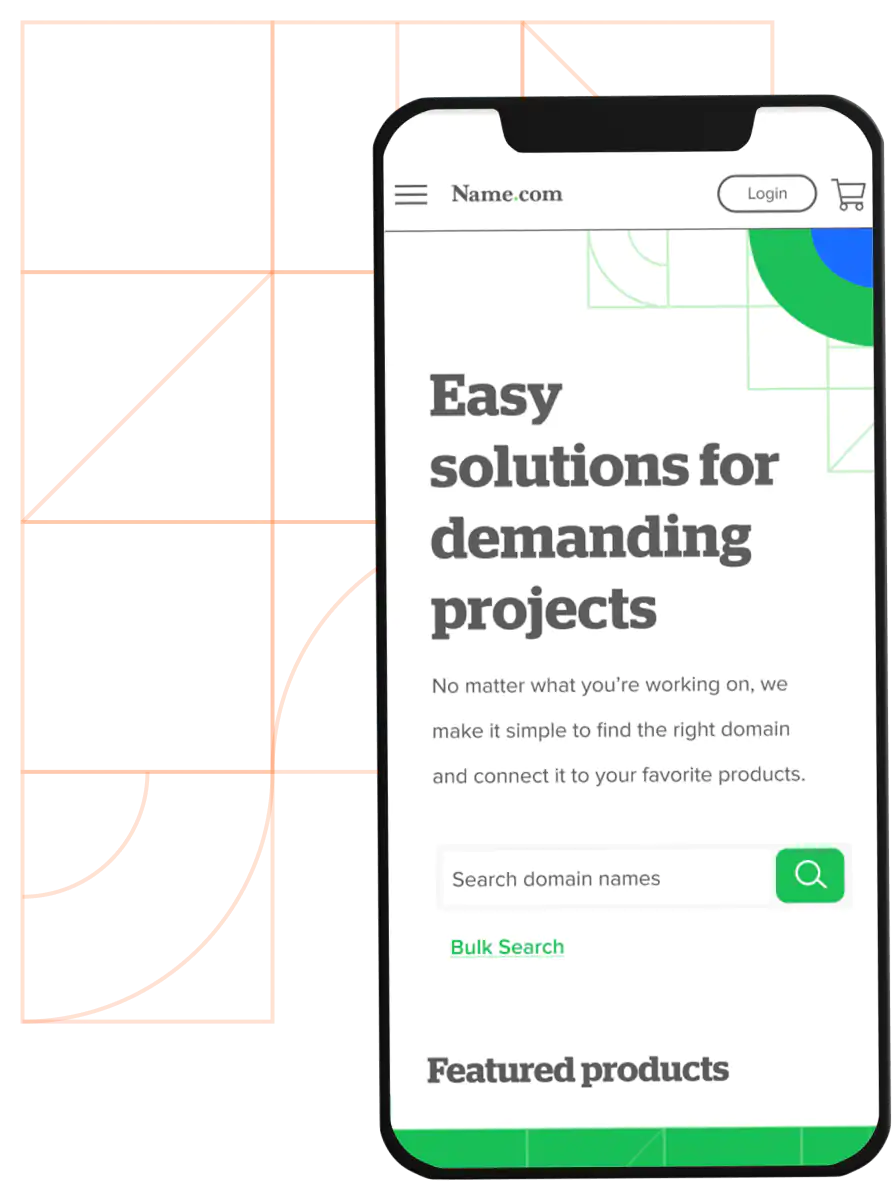 Free products & services when you register
Name.com offers more for less, with free perks like URL and email forwarding to sophisticated account features like Two-Step Verification and DNS templates.
Fair, transparent pricing
We clearly display domain discounts and renewal pricing during the domain search process so there are no nasty surprises when your domain's renewal comes up.
Everything in one place
Once you have a domain in hand, we make it simple to attach email, hosting, website builders, and more. It's everything you need in one convenient place.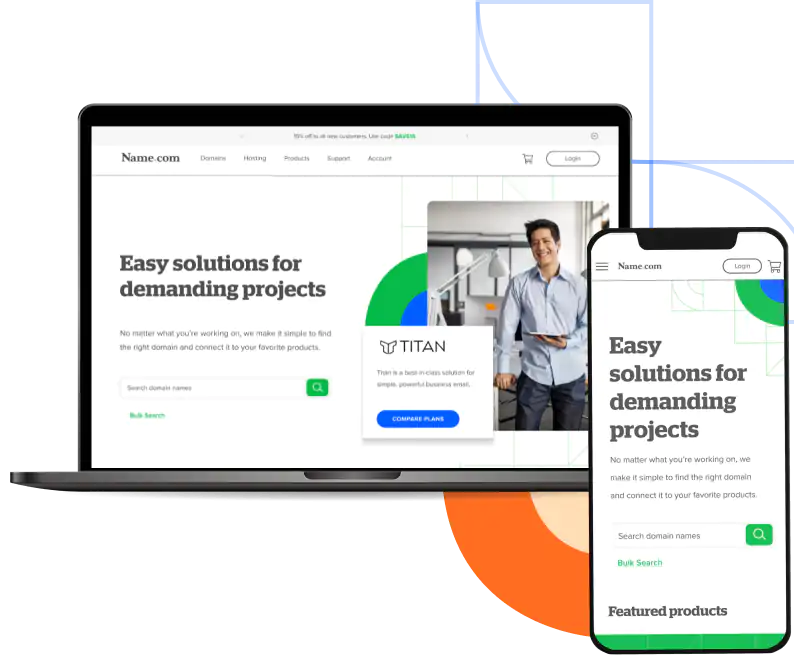 90 Day Free Trial with any domain purchase
Titan Pro free email
Name.com has partnered with Titan Email to offer you powerful and easy to use professional email @yourdomain. Claim this 90 day free trial on the order confirmation page or on the domain management page after any domain purchase.
FAQs
How do I check if a domain name is available?

The Name.com platform lets you perform a thorough domain name search so you can find out if the name you want for your website is available and for sale. There are a couple of ways to see if the website name you want is available. The easiest method is to type the domain name you're interested in into our search box and we'll tell you if the domain is available for registration. You can also search for the domain in Whois Lookup.
How do I find the best available domain name?

If you have an idea for the name you want, start by searching for that. If the name isn't available, we'll show you our best recommendations for similar, available domain names. Or, if you don't have a specific domain name in mind, just type in keywords that describe your website or project, hit search, and check out the suggestions.
What do I do if the website name I want is taken?

If the domain name you want is already registered, you have a few options. First, check out the recommended, similar domain names in your search results to see if one of those works. You should also consider an available domain name with an extension other than .COM, such as .IO, .CLUB, or .ROCKS. There are hundreds of new TLDs to consider. If you're really set on securing your first choice of domain, find the current registrant using Whois Lookup and see if they are willing to sell it. Learn more
How do I know if the domain I want is a Premium domain name?

When searching for domain names, the word "Premium" will occasionally appear above Premium names on the search result page. Premium names are available for purchase, but they typically cost more than non-Premium names. Learn more about Premium domain names
How do I search for expired domain names?

"Expiring domain names" are just what they sound like: Domain names that were unavailable because they were already registered but are about to expire, making the website name available for purchase again. You can search for expiring domain names using keywords or you can check the list of about-to-expire names. Search domains expiring now
How do I buy a domain name?

Congrats! You found an available name and you're ready to make it yours. Simply add the domain name to your cart and start the checkout process. During checkout, you'll make some decisions like how many years you'd like to register it for, if you'd like to add site hosting, email, advanced security, auto-renewals, and other features.